The Situation…
The Legacy web client is likely to be deprecated by October 2019 with a view to be discontinued a year later. The Unified Interface will soon be the only user interface for all Common Data Service apps. It's time to take the plunge into the Unified Interface now.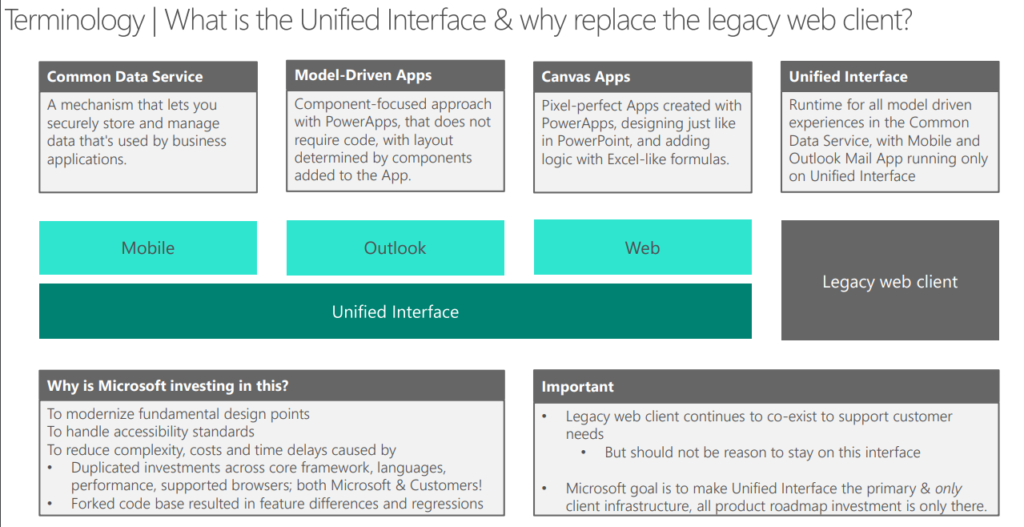 What actions should I take?
The four steps to a smooth transition, as defined by Microsoft, are initiate, explore, transition, and optimize. A good explanation of this can be found in the Unified Interface Playbook from Microsoft.
The best way to begin is with awareness and understanding the Unified Interface  (what it is, how it differs from the legacy web client, and what it means to you). Some other great resources from Microsoft that we have found are About the Unified Interface and Approaching a Unified Interface transition.

Next Steps
The next step in your transition is exploration – beginning to map out and plan your methodology.   The Unified Interface is a modern immersive experience that excites users, but we understand change can be scary! With Dynamics 365 Support to guide you in your transition, it doesn't have to be!  Dynamics 365 Support will help you with planning and executing a smooth transition to the Unified Interface.
For us, the first step is understanding your business user before setting plans. This sets a firm foundation for a successful transition. From there, we will develop a detailed transition plan that aligns well with the way that your organizational processes work. Your organization's needs will be the focus of our plan
Begin your transition to the Unified Interface today
Don't delay. Take the plunge into the Unified Interface today. Unified interface will be the primary user interface for model-driven apps. As of October 2020, the legacy web client is a thing of the past. Contact the experts at Dynamics 365 Support today to ensure a solid transition.
Note– many of the new updates released by Microsoft from here on are only available in the Unified Interface. In order to ensure you are getting the most out of Dynamics 365, begin your transition today.